360° marketing: the full circle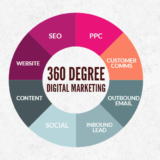 360° marketing means the full circle, without leaving one single channel. It covers the entire buying cycle, utilizing every marketing medium; providing an integrated and consistent branding strategy.
Benefits of 360° marketing are:
covers the entire buying cycle
uses every point of contact
implements in parallel the traditional and digital marketing
optimizes for relevance and scale
enables successfully measure outcomes
Components of digital marketing
Awareness and Interest: use content marketing, display and video marketing and social media marketing.
Content is the king. It attracts potential customers to find out and learn about the products or services. Content marketing has the number one priority in the inbound strategy, and a center point for all efforts and marketing campaigns.
The Awareness and Interest stages are triggered y a discovery of an existing problem and research for a potential solution. The more content is related to the topic researched by a consumer, the highest chances to enter in the phase of Consideration / Conversion.
Consideration and Conversion: use mostly  SEO and paid search
Retention: involves  email marketing, automation and analytics.
Tools for 360° marketing
Website
Well designed and optimized website. Website optimization is the process of creating and continuously improving customer experience, which leads to higher customer satisfaction, better UX, repetitive visits and conversions. Optimization means a flawless journey on different types of devices.
Outbound
Basically can be reduced to the social media, where brands increase their exposure and cultivate relationships with their consumers. Social media marketing provides visibility and interactivity with the audience. It is one of principal channels of the outbound marketing these days. Once the audience get engaged, the outbound marketing leads automatically to the inbound marketing, where company can be messaged, content can be shared and re-posted, liked and commented. The inbound-outbound channel is an ultimate goal for every company.
The second type of outbound media is display and video advertising. They generate awareness combined with precise audience targeting. Creatives (display and video) should be emotionally engaging ; what creates engagement, recall, brand affinity and quality traffic.
Inbound
First and the most known  inbound channel is PPC (pay-per-click). Payment occurs only if the searcher clicks the ad. PPC gives an insight what people search on internet in the subject of products or services. The value of paid search lies in the use intent – once the searcher finds a suitable product is ready to take an action. This kind of traffic is highly competitive and advertisers bid for it.
The second technique (not really a channel) is Search Engine Optimization. Traffic is free, organic and comes from search engines. SEO signifies that the page must be attractive for search engines; they match the page with the query of the searcher.
Content marketing includes creation, publication and sharing the website content. The aim of content marketing is to build reputation,   brand affinity and awareness. Strong content contributes to the brand personality and likability. Product is not self-sufficient nowadays, it needs to be backed up by the brand values.
Email marketing, even if it seems like an outbound channel, is a subscribed inbound channel. Through email marketing are delivered offers, promotions, advertisements, education and other content, which might be interesting for the subscriber. An efficient email campaign can drive traffic tot he web page and lead to conversions. Email campaigns are an opportunity to deliver personalized content straight to the hands of the customer. It should be attractive enough to incite the customer to click and get to the website, where she or he will take action.
Web analytics
It is all what includes data collection, measurement, analysis and reporting. Those actions serve to understand the nature of traffic and optimization of the website; identification of entry paths and information about the customer: location, language, devices used, returning visits, etc.
Digital strategy
It is simply an establishment of the set of goals and practices to achieve long term digital objectives and cover all digital channels used by customers. It includes channel options, timing and budget and is a roadmap for every digital marketer.